This site is about woman led relationships, also called (FLR) Female Led Relationships, Wife Led Relationships, Girlfriend Led Relationships, loving domestic leadership, loving domestic discipline, female head of household, dominate female led home, etc, etc… This refers to any relationship where the woman is leading her man and in some cases their family. There are no made up stories, no porn images and no particular slant supported. We welcome participation from women and in some cases from men. All entries are screened so we get quality information and opinion.
FLR is by no means new. But the formal recognition of men asking for these relationships is new. This site addresses the lack of good quality with well thought-out information – much of the information we found on the internet is from a radical perspective by people selling books, images and ideas. AboutFLR.com provides a balanced approach that allows women to participate in each others lives. We found most of the information on the internet was created by people we don't want information from: sleazy porn purveyors, professionals who prey on male fantasies and men themselves creating bogus stuff to fulfil their own fantasies.
This website has rhetoric, facts, opinions, guesses, real life experience and a community approach to solving and uncovering problems. The fact that so many men are crying out for help and female leadership and so few women are responding makes this website invaluable to all who want a REAL relationship with love and support, though you may choose not to pursue FLR.
This website does not have any porn, explicit images, exciting made-up stories, fantasies or outside advertising. We hope to remain objective so good people can live in their relationships and respond to each other with dignity and hope for a brighter future. The subject of FLR is difficult because it is often jaded by desire, lust, shame and other complex feelings.
     If this site is doing its job, it will inspire common sense, transparency (thought you may not like what you learn), dialogue and hopefully a good decision for you. FLR is real and imaginary so this site is careful to cover all aspects in a frank investigative way. If only models and porn purveyors are selling FLR then it is worthless because it is unobtainable; but real people want it so it is worthy of discussion. We believe women make good leaders so FLR can work when a couple decides it is right for them and when the female is confident in her leadership. Conversely by exploring the subject a couple may not want FLR as their leadership model – the choice is yours, make it wisely. We further believe FLR goes against the current cultural norm so you will have struggles and issues that are better dealt with in a supportive community.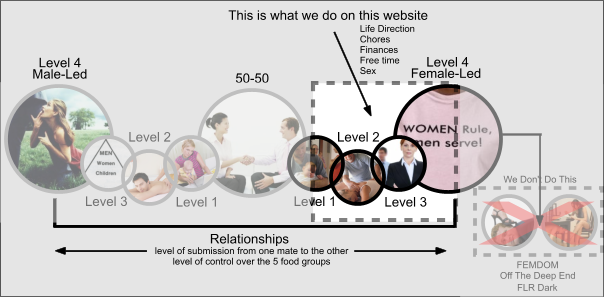 Founded
This website started in December 2010.
Founders
The original content was written by 4 women and 1 man based on data collected from myhumbleservice.com in 2007-2008. The '5 Food Group' concepts written about by author M. Lyman Hill were incorporated to help create a more reasonable approach to relationships.
Registered Members
It is not necessary to register to participate. About 2998 people are currently enrolled in programs.
Demographics
About 17% of the 31,999 or so monthly participants identify themselves as female. 17% of all user comments were posted by those identifying themselves as female. 80% of all visitors are from the United States.
Polling
All polling is anonymous, names are never revealed. Software is in place to detect fraud and misuse.
Current polling celebrates over 1,307,359 questions answered by 51,569 unique people
Original Content
The site contains 6,408 pages of content. 76 articles and 43,423 user posts.